The application of precious metals to enhance the appearance of architectural elements and objects of art dates back to the earliest civilizations. The oldest method of applying gold leaf is that of water gilding, an art form as much as it is a process. Leafed only by hand, water gilding produces a luster and richness unmatched by any other method of gilding.
Genuine gold leaf applied to a picture frame must be preceded by thorough preparation of the frame surface (click on oval frame image for a view of the 12-step process). This begins with the application of finely applied layers of gesso. The gesso then is sanded to a finish as smooth as porcelain and covered with a thin layer of burnishing bole (colored clay) that will receive the gold leaf.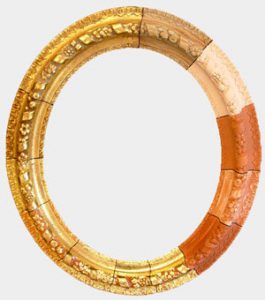 ©Shuptrine's Water Gilding 12-Step Process
"I use the old, time-honored method of gilding. I mix all of my own substances and can change them depending on the desired tone and finish. One can really see a difference between the result of water gilding as opposed to more contemporary methods. The difference is certainly worth the meticulous process."
– Alan Shuptrine
Little Blue Herons, ©1911, Alice Ravenel Huger Smith
Watercolor on paper
20 x 24 inches Lily Pad Frame
Over the past 25 years, Shuptrine's Gold Leaf Designs has been the leading gold leaf frame maker for a wide range of clients: museums, galleries, interior designers, architects, and collectors of fine art. His handmade frames are signed and dated, all uniquely designed to the piece to create the best result for collections.
The different gold leaf types can vary from a yellow gold leaf to white gold, platinum, copper, or others. A unique co.or of clay or bole is used under each gold leaf sheet, to create another level of design and marrying. Shuptrine's is exceptional in
design and color, technique and tastefulness to each piece we create.
To the side is another unique, one-of-a-kind handcrafted frame created by our artisans, carved and water gilded with 12KT white gold leaf over deep plum burnishing bole, accompanied by a hand-wrapped linen mat and matching gilded fillet.
White Slippers, ©Stephen Scott Young
Drybrush watercolor on paper
31 x 17.75 inches handmade gold leaf frame