Interior design of many periods has utilized gilding to adorn fine furniture and interiors. Magnificent examples of gilded furniture are found in French, Italian, English, American and many other furniture making traditions. Whether used as accents or to envelope an entire piece, genuine gold leaf imparts a glorious warm glow that enhances any size or style of furniture, and adds a timeless, unifying element to any décor. Both beautiful and surprisingly durable, a gilded finish can be restored or newly applied on nearly any type of furniture, including case pieces, chairs, console and occasional tables, fireplace mantels, sconces, chandeliers, and decorative objects.
Antique console 19th century water gilded antique console with marble top.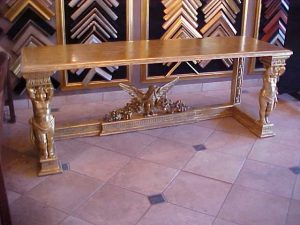 Custom made antique console table with cherub ornamentation and water gilded
Hand-carved Chippendale style mirror frame, water gilded with 22 Kt. gold leaf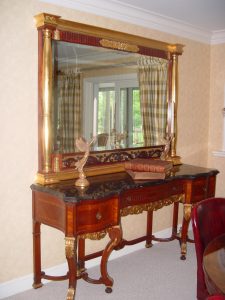 Hand-carved mahogany mirror with carved fret board and water gilded accents.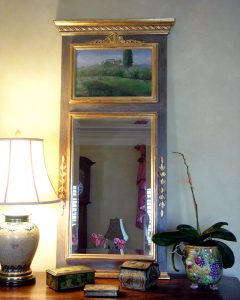 Custom designed trumeau with carved ornamentation and accented with a painting of the Tuscan landscape